About us
Both in Main Beach & Runaway Bay, you can locate The Terrace Thai Waterfront. We mainly serve one of the best Thai Cuisine in the country. We can bring Thailand at your doorstep, because we do delivery and pickup services every day. Our menu varies from Entree, Soup, Salad, Chef Specialties, From the Wok, Curry (Gluten Free), Noodles, Rice & Roti and Bread Drinks. You can also try our bestsellers like Vegetarian Spring Rolls, The Terrace Thai Fresh Summer Roll, Prawn Skewers, Tom Yum (with Seafood Stock), Larb Chicken, Thai Chicken Salad, Crispy Noodle (Mee Grob), The Terrace Thai Fish Salad (Gluten Free) and many more. Click the Order Online button now.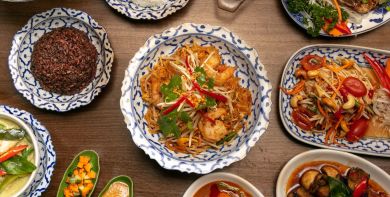 Reviews
Lisa
"Brilliant loved the food compliments to the chef ;)) Driver was spot on will order again ;)))))))))))"
12/03/2020
Ben
"Food Is so good"
11/03/2020
Mitch
"Delicious! And delivered so quickly"
23/02/2020
Sharyn
"Kind, Efficient Driver. Fabulous, Hot, Fresh & Tasty Food. Highly Recommend Terrace Thai & Driver! ⭐⭐⭐"
12/02/2020
Jennifer
"Authentic flavours. Generous serving size. Very impressed, we will definitely order again."
11/01/2020
Annie
"So good we had it 2 days in a row ⭐"
29/12/2019